My Climate Plan, Wherein a Climate Skeptic Actually Advocates for A Carbon Tax
Publish:
Fri 18 Mar 2016 - 4:20 PM
Website:
Climate Skeptic
I am always amazed at how people like to draw conclusions about what I write merely from the title, without actually reading everything I wrote. This is cross-posted from Coyote Blog, where I already am getting accusations of selling out. Please read before judging. I have proposed a carbon tax in a way that would be a net economic benefit even if one totally dismisses the threat of man-made global warming.
While I am not deeply worried about man-made climate change, I am appalled at all the absolutely stupid, counter-productive things the government has implemented in the name of climate change, all of which have costly distorting effects on the economy while doing extremely little to affect man-made greenhouse gas production. For example:
Even when government programs do likely have an impact of CO2, they are seldom managed intelligently. For example, the government subsidizes solar panel installations, presumably to reduce their cost to consumers, but then imposes duties on imported panels to raise their price (indicating that the program has become more of a crony subsidy for US solar panel makers, which is typical of these types of government interventions). Obama's coal power plan, also known as his war on coal, will certainly reduce some CO2 from electricity generation but at a very high cost to consumers and industries. Steps like this are taken without any idea of whether this is the lowest cost approach to reducing CO2 production — likely it is not given the arbitrary aspects of the program.
For years I have opposed steps like a Federal carbon tax or cap and trade system because I believe (and still believe) them to be unnecessary given the modest amount of man-made warming I expect over the next century. I would expect to see about one degree C of man-made warming between now and 2100, and believe most of the cries that "we are already seeing catastrophic climate changes" are in fact panics driven by normal natural variation (most supposed trends, say in hurricanes or tornadoes or heat waves, can't actually be found when one looks at the official data).
But I am exhausted with all the stupid, costly, crony legislation that passes in the name of climate change action. I am convinced there is a better approach that will have more impact on man-made CO2 and simultaneously will benefit the economy vs. our current starting point. So here goes:
The Plan
Point 1: Impose a Federal carbon tax on fuel.
I am open to a range of actual tax amounts, as long as point 2 below is also part of the plan. Something that prices CO2 between $25 and $45 a ton seems to match the mainstream estimates out there of the social costs of CO2. I think methane is a rounding error, but one could make an adjustment to the natural gas tax numbers to take into account methane leakage in the production chain. I am even open to make the tax=0 on biofuels given these fuels are recycling carbon from the atmosphere.
A Pigovian tax on carbon in fuels is going to be the most efficient possible way to reduce CO2 production. What is the best way to reduce CO2 — by substituting gas for coal? by more conservation? by solar, or wind? with biofuels? With a carbon tax, we don't have to figure it out. Different approaches will be tested in the marketplace. Cap and trade could theoretically do the same thing, but while this worked well in some niche markets (like SO2 emissions), it has not worked at all in European markets for CO2. There has just been too many opportunities for cronyism, too much weird accounting for things like offsets that is hard to do well, and too much temptation to pick winners and losers.
Point 2: Offset 100% of carbon tax proceeds against the payroll tax
Yes, there are likely many politicians, given their incentives, that would love a big new pool of money they could use to send largess, from more health care spending to more aircraft carriers, to their favored constituent groups. But we simply are not going to get Conservatives (and libertarians) on board for a net tax increase, particularly one to address an issue they may not agree is an issue at all. So our plan will use carbon tax revenues to reduce other Federal taxes.
I think the best choice would be to reduce the payroll tax. Why? First, the carbon tax will necessarily be regressive (as are most consumption taxes) and the most regressive other major Federal tax we have are payroll taxes. Offsetting income taxes would likely be a non-starter on the Left, as no matter how one structures the tax reduction the rich would get most of it since they pay most of the income taxes.
There is another benefit of reducing the payroll tax — it would mean that we are replacing a consumption tax on labor with a consumption tax on fuel. It is always dangerous to make gut-feel assessments of complex systems like the economy, but my sense is that this swap might even have net benefits for the economy — ie we might want to do it even if there was no such thing as greenhouse gas warming. In theory, labor and fuel are economically equivalent in that they are both production raw materials. But in practice, they are treated entirely differently by the public. Few people care about the full productive employment of our underground fuel reserves, but nearly everybody cares about the full productive employment of our labor force. After all, for most people, the primary single metric of economic health is the unemployment rate. So replacing a disincentive to hire with a disincentive to use fuel could well be popular.
Point 3: Eliminate all the stupid stuff
Oddly enough, this might be the hardest part politically because every subsidy, no matter how idiotic, has a hard core of beneficiaries who will defend it to the death — this the the concentrated benefits, dispersed cost phenomena that makes it hard to change many government programs. But never-the-less I propose that we eliminate all the current Federal subsidies, mandates, and prohibitions that have been justified by climate change. Ethanol rules and mandates, solar subsidies, wind subsidies, EV subsidies, targeted technology investments, coal plant bans, pipeline bans, drilling bans — it all should go. The carbon tax does the work.
States can continue to do whatever they want — we don't need the Feds to step on states any more than they do already, and I continue to like the 50 state laboratory concept. If California wants to continue to subsidize wind generators, let them do it. That is between the state and its taxpayers (and for those who think the California legislature is crazy, that is what U-Haul is for).
Point 4: Revamp our nuclear regulatory regime
As much as alternative energy enthusiasts would like to deny it, the world needs reliable, 24-hour baseload power — and wind and solar are not going to do it (without a change in storage technology of at least 2 orders of magnitude in cost). The only carbon-free baseload power technology that is currently viable is nuclear.
I will observe that nuclear power suffers under some of the same problems as commercial space flight — the government helped force the technology faster than it might have grown organically on its own, which paradoxically has slowed its long-term development. Early nuclear power probably was not ready for prime time, and the hangover from problems and perceptions of this era have made it hard to proceed even when better technologies have existed. But we are at least 2 generations of technology past what is in most US nuclear plants. Small air-cooled thorium reactors and other technologies exist that could provide reliable safe power for over 100 years. I am not an expert on nuclear regulation, but it strikes me that a regime similar to aircraft safety, where a few designs are approved and used over and over makes sense. France, which has the strongest nuclear base in the world, followed this strategy. Using thorium could also have the advantage of making the technology more exportable, since its utility in weapons production would be limited.
Point 5: Help clean up Chinese, and Asian, coal production
One of the hard parts about fighting CO2 emissions, vs. all the other emissions we have tackled in the past (NOx, SOx, soot/particulates, unburned hydrocarbons, etc), is that we simply don't know how to combust fossil fuels without creating CO2 — CO2 is inherent to the base chemical reaction of the combustion. But we do know how to burn coal without tons of particulates and smog and acid rain — and we know how to do it economically enough to support a growing, prosperous modern economy.
In my mind it is utterly pointless to ask China to limit their CO2 growth. China has seen the miracle over the last 30 years of having almost a billion people exit poverty. This is an event unprecedented in human history, and they have achieved it in part by burning every molecule of fossil fuels they can get their hands on, and they are unlikely to accept limitations on fossil fuel consumption that will derail this economic progress. But I think it is reasonable to help China stop making their air unbreathable, a goal that is entirely compatible with continued economic growth. In 20 years, when we have figured out and started to build some modern nuclear designs, I am sure the Chinese will be happy to copy these and start working on their CO2 output, but for now their Maslov hierarchy of needs should point more towards breathable air.
As a bonus, this would pay one immediate climate change benefit that likely would dwarf the near-term effect of CO2 reduction. Right now, much of this soot from Asian coal plants lands on the ice in the Arctic and Greenland. This black carbon changes the albedo of the ice, causing it to reflect less sunlight and absorb more heat. The net effect is more melting ice and higher Arctic temperatures. A lot of folks, including myself, think that the recent melting of Arctic sea ice and rising Arctic temperatures is more attributable to Asian black carbon pollution than to CO2 and greenhouse gas warming (particularly since similar warming and sea ice melting is not seen in the Antarctic, where there is not a problem with soot pollution).
Final Thoughts
At its core, this is a very low cost, even negative cost, climate insurance policy. The carbon tax combined with a market economy does the work of identifying the most efficient ways to reduce CO2 production. The economy benefits from the removal of a myriad of distortions and crony give-aways, while also potentially benefiting from the replacement of a consumption tax on labor with a consumption tax on fuel. The near-term effect on CO2 is small (since the US is only a small part of the global emissions picture), but actually larger than the near-term effect of all the haphazard current programs, and almost certainly cheaper to obtain. As an added benefit, if you can help China with its soot problem, we could see immediate improvements in probably the most visible front of man-made climate change: in the Arctic.
Postscript
Perhaps the hardest thing to overcome in reaching a compromise here is the tribalism of modern politics. I believe this is a perfectly sensible plan that even those folks who believe man-made global warming is a total myth ( a group to which I do not belong) could sign up for. The barrier, though, is tribal. I consider myself to be pretty free of team politics but my first reaction when thinking about this kind of plan was, "What? We can't let those guys win. They are totally full of sh*t. They are threatening to throw me in jail for my opinions."
It was at this point I was reminded of a customer service story at my company. I had a customer who was upset call me, and I ended up giving them a full-refund and a certificate to come back and visit us in the future. I actually suspected there was more to the story, but I didn't want a bad review. The customer was happy, but my local manager was not. She called me and said, "That was a bad customer! He was lying to you. How can you let him win like that?" Does this sound familiar? I think we fall into this trap all the time in modern politics, worried more about preventing the other team from winning than about doing the right thing.
US Average Temperature Trends in Context
Publish:
Thu 04 Feb 2016 - 8:07 PM
Website:
Climate Skeptic
Cross-posted from Coyoteblog.
There was some debate a while back around about a temperature chart some Conservative groups were passing around.
Obviously, on this scale, global warming does not look too scary. The question is, is this scale at all relevant? I could re-scale the 1929 stock market drop to a chart that goes from Dow 0 to, say, Dow 100,000 and the drop would hardly be noticeable. That re-scaling wouldn't change the fact that the 1929 stock market crash was incredibly meaningful and had large impacts on the economy. Kevin Drum wrote about the temperature chart above,
This is so phenomenally stupid that I figured it had to be a joke of some kind.
Mother Jones has banned me from commenting on Drum's site, so I could not participate in the conversation over this chart. But I thought about it for a while, and I think the chart's author perhaps has a point but pulled it off poorly. I am going to take another shot at it.
First, I always show the historic temperature anomaly on the zoomed in scale that you are used to seeing, e.g. (as usual, click to enlarge)
The problem with this chart is that it is utterly without context just as much as the previous chart. Is 0.8C a lot or a little? Going back to our stock market analogy, it's a bit like showing the recent daily fluctuations of the Dow on a scale from 16,300 to 16,350. The variations will look huge, much larger than either their percentage variation or their meaningfulness to all but the most panicky investors.
So I have started including the chart below as well. Note that it is in Fahrenheit (vs. the anomaly chart above in Celsius) because US audiences have a better intuition for Fahrenheit, and is only for the US vs. the global chart above. It shows the range of variation in US monthly averages, with the orange being the monthly average daily maximum temperature across the US, the dark blue showing the monthly average daily minimum temperature, and the green the monthly mean. The dotted line is the long-term linear trend
Note that these are the US averages — the full range of daily maximums and minimums for the US as a whole would be wider and the full range of individual location temperatures would be wider still. A couple of observations:
It is always dangerous to eyeball charts, but you should be able to see what is well known to climate scientists (and not just some skeptic fever dream) — that much of the increase over the last 30 years (and even 100 years) of average temperatures has come not from higher daytime highs but from higher nighttime minimum temperatures. This is one reason skeptics often roll their eyes as attribution of 15 degree summer daytime record heat waves to global warming, since the majority of the global warming signal can actually be found with winter and nighttime temperatures.
The other reason skeptics roll their eyes at attribution of 15 degree heat waves to 1 degree long term trends is that this one degree trend is trivial compared to the natural variation found in intra-day temperatures, between seasons, or even across years. It is for this context that I think this view of temperature trends is useful as a supplement to traditional anomaly charts (in my standard presentation, I show this chart scale once and the standard anomaly chart scale further up about 30 times, so that utility has limits).
Revisiting (Yet Again) Hansen's 1998 Forecast on Global Warming to Congress
Publish:
Thu 28 Jan 2016 - 10:54 PM
Website:
Climate Skeptic
I want to briefly revisit Hansen's 1998 Congressional forecast. Yes, I and many others have churned over this ground many times, but I think I now have a better approach. The typical approach has been to overlay some actual temperature data set on top of Hansen's forecast (e.g. here). The problem is that with revisions to all of these data sets, particularly the GISS reset in 1999, none of these data sets match what Hansen was using at the time. So we often get into arguments on where the forecast and actuals should be centered, etc.
This might be a better approach. First, let's start with Hansen's forecast chart (click to enlarge).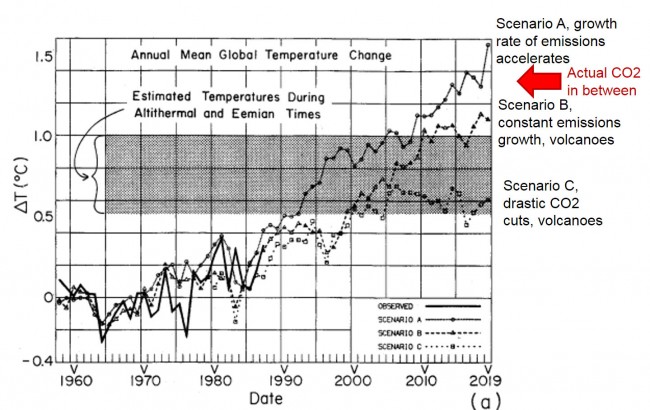 Folks have argued for years over which CO2 scenario best matches history. I would argue it is somewhere between A and B, but you will see in a moment that it almost does not matter. It turns out that both A and B have nearly the same regressed slope.
The approach I took this time was not to worry about matching exact starting points or reconciling difference anomaly base periods. I merely took the slope of the A and B forecasts and compared it to the slope over the last 30 years of a couple of different temeprature databases (Hadley CRUT4 and the UAH v6 satellite data).
The only real issue is the start year. The analysis is not very sensitive to the year, but I tried to find a logical start. Hansen's chart is frustrating because his forecasts never converge exactly, even 20 years in the past. However, they are nearly identical in 1986, a logical base year if Hansen was giving the speech in 1988, so I started there. I didn't do anything fancy on the trend lines, just let Excel calculate the least squares regression. This is what we get (as usual, click to enlarge).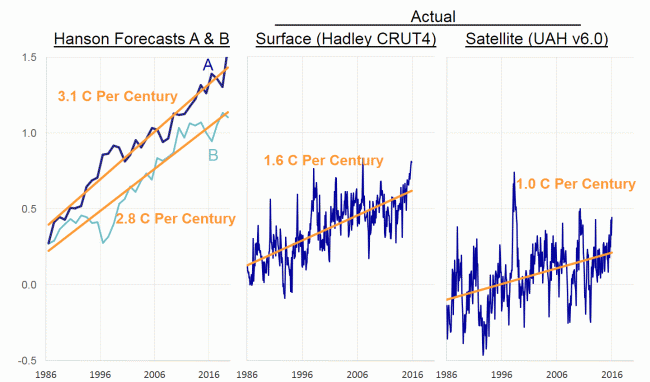 I think that tells the tale pretty clearly. Versus the gold standard surface temperature measurement (vs. Hansen's thumb-on-the-scale GISS) his forecast was 2x too high. Versus the satellite measurements it was 3x too high.
The least squares regression approach probably under-estimates that A scenario growth rate, but that is OK, that just makes the conclusion more robust.
By the way, I owe someone a thanks for the digitized numbers behind Hansen's chart but it has been so many years since I downloaded them I honestly forgot who they came from.
Matt Ridley: What the Climate Wars Did to Science
Publish:
Wed 08 Jul 2015 - 8:32 PM
Website:
Climate Skeptic
I cannot recommend Matt Ridley's new article strongly enough. It covers a lot of ground be here are a few highlights.
Ridley argues that science generally works (in a manner entirely parallel to how well-functioning commercial markets work) because there are generally incentives to challenge hypotheses. I would add that if anything, the incentives tend to be balanced more towards challenging conventional wisdom. If someone puts a stake in the ground and says that A is true, then there is a lot more money and prestige awarded to someone who can prove A is not true than for the thirteenth person to confirm that A is indeed true.
This process breaks, however when political pressures undermine this natural market of ideas and switch the incentives for challenging hypotheses into punishment.
Lysenkoism, a pseudo-biological theory that plants (and people) could be trained to change their heritable natures, helped starve millions and yet persisted for decades in the Soviet Union, reaching its zenith under Nikita Khrushchev. The theory that dietary fat causes obesity and heart disease, based on a couple of terrible studies in the 1950s, became unchallenged orthodoxy and is only now fading slowly.

What these two ideas have in common is that they had political support, which enabled them to monopolise debate. Scientists are just as prone as anybody else to "confirmation bias", the tendency we all have to seek evidence that supports our favoured hypothesis and dismiss evidence that contradicts it—as if we were counsel for the defence. It's tosh that scientists always try to disprove their own theories, as they sometimes claim, and nor should they. But they do try to disprove each other's. Science has always been decentralised, so Professor Smith challenges Professor Jones's claims, and that's what keeps science honest.

What went wrong with Lysenko and dietary fat was that in each case a monopoly was established. Lysenko's opponents were imprisoned or killed. Nina Teicholz's book The Big Fat Surprise shows in devastating detail how opponents of Ancel Keys's dietary fat hypothesis were starved of grants and frozen out of the debate by an intolerant consensus backed by vested interests, echoed and amplified by a docile press….

This is precisely what has happened with the climate debate and it is at risk of damaging the whole reputation of science.
This is one example of the consequences
Look what happened to a butterfly ecologist named Camille Parmesan when she published a paper on " Climate and Species Range" that blamed climate change for threatening the Edith checkerspot butterfly with extinction in California by driving its range northward. The paper was cited more than 500 times, she was invited to speak at the White House and she was asked to contribute to the IPCC's third assessment report.

Unfortunately, a distinguished ecologist called Jim Steele found fault with her conclusion: there had been more local extinctions in the southern part of the butterfly's range due to urban development than in the north, so only the statistical averages moved north, not the butterflies. There was no correlated local change in temperature anyway, and the butterflies have since recovered throughout their range. When Steele asked Parmesan for her data, she refused. Parmesan's paper continues to be cited as evidence of climate change. Steele meanwhile is derided as a "denier". No wonder a highly sceptical ecologist I know is very reluctant to break cover.
He also goes on to lament something that is very familiar to me — there is a strong argument for the lukewarmer position, but the media will not even achnowledge it exists. Either you are a full-on believer or you are a denier.
The IPCC actually admits the possibility of lukewarming within its consensus, because it gives a range of possible future temperatures: it thinks the world will be between about 1.5 and four degrees warmer on average by the end of the century. That's a huge range, from marginally beneficial to terrifyingly harmful, so it is hardly a consensus of danger, and if you look at the "probability density functions" of climate sensitivity, they always cluster towards the lower end.

What is more, in the small print describing the assumptions of the "representative concentration pathways", it admits that the top of the range will only be reached if sensitivity to carbon dioxide is high (which is doubtful); if world population growth re-accelerates (which is unlikely); if carbon dioxide absorption by the oceans slows down (which is improbable); and if the world economy goes in a very odd direction, giving up gas but increasing coal use tenfold (which is implausible).

But the commentators ignore all these caveats and babble on about warming of "up to" four degrees (or even more), then castigate as a "denier" anybody who says, as I do, the lower end of the scale looks much more likely given the actual data. This is a deliberate tactic. Following what the psychologist Philip Tetlock called the "psychology of taboo", there has been a systematic and thorough campaign to rule out the middle ground as heretical: not just wrong, but mistaken, immoral and beyond the pale. That's what the word denier with its deliberate connotations of Holocaust denial is intended to do. For reasons I do not fully understand, journalists have been shamefully happy to go along with this fundamentally religious project.
The whole thing reads like a lukewarmer manifesto. Honestly, Ridley writes about 1000% better than I do, so rather than my trying to summarize it, go read it.